Web Sites
The Blurring Test
American Love Stories
NeedCom
VAGUEpolitix
Reality Check
Adoption: A Gathering
Working Stiff
Living With Suicide
P.O.V. Salon
P.O.V.'s The Band
Hong Kong '97
Prototypes & Trials
Virtual Nation


Adoption: A Gathering
Full Description | Team Biographies
Darren Korn disseminates information for environmental organizations and spent many years at the Rainforest Action Network. He graduated with honors from the University of California at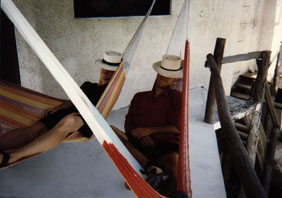 Berkeley with a BA in Peace and Conflict Studies and co-farms with Jones the chilies and lemon cucumbers in their intensive container garden.
Suki Jones is an educator and a media artist. She has a diverse background as the director of a program teaching media literacy to high school students as well as the Marketing Director for the National Educational Media Network. Her work in film led her and Korn to the idea for this project and her relationship with the site is shaped by her life experience as an adoptee.
She and Korn both like to make stick puppets.
Angela Fung is the Creative Director at @radical.media's New Media Group, and an educator at Parsons School of Design. Fung's new media credentials include interactive projects for Sotheby's, MSNBC, Chiat/Day, and Harper Collins Interactive. She has also worked on commercial animation for Marvel, Nike, and Coca-Cola. Angela holds a B.A. in English Literature with Creative Writing from Dartmouth College, and an M.F.A. in Painting from Parsons School of Design.
Full Description | Team Biographies